On-Point Apparel
Boca Raton-Based Tennis Anyone? Scores with a Unique Store Concept.
Owner Tom Vladimir and Retail Manager/Buyer Virginia Kesl share their winning formula at retail with sportstyle:
When did you start Tennis Anyone?
–Tom: "We opened the Runner's Edge in 1996. When we wanted to expand in 1999, rather than open more running stores, we thought it would be smarter to open a tennis store because there really weren't any in the area. We thought there would be a lot of synergy between the two product lines. I was friends with Virginia's daughter. Virginia has been here since we started."
Are the stores close to each other?
–Tom: "They are basically adjoining. It's kind of a unique combination. You don't see a lot of stores like this. Maybe one person runs and one plays tennis and they can shop together. Some of the products overlap."
–Virginia: "And there is one checkout counter in the middle of the store."
What are the trends you are seeing in apparel for tennis?
–Virginia: "Many of the tennis brands have gone to 50 UV sun protection. We also stock products that are specifically for sun protection, for example, long sleeve shirts. There are some newer brands that keep you cooler. BloqUV we've done very well with. IBKUL says they keep you five degrees cooler."
What about in footwear?
–Virginia: "Our number one brand is K-Swiss and one of the reasons why is because it has a bigger toe box. The Hypercourt, which we sell the most of, has mesh to keep players cooler in the South Florida climate."  
Tell me about your shoppers.
–Tom: "Most are year-round residents. Some are seasonal. This is a retirement area. I was at The Running Event and there was a lot of talk about Millennials and that being a group we need to focus on. But at this point, Millennials aren't really the shoppers yet. They are still younger and don't have the buying power of the Baby Boomers. So as much as they may be important in the future, I don't think they are as important today. Our average customer is not 18-30 years old."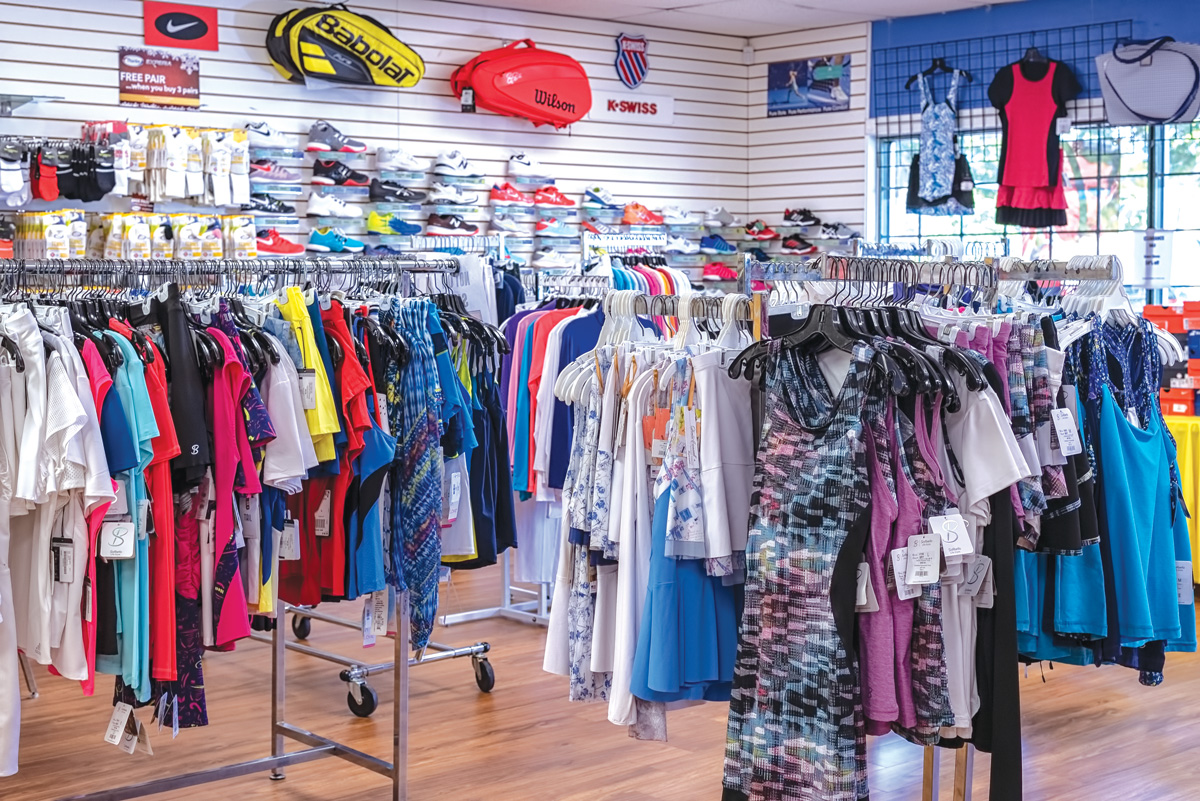 Can you highlight some specific trends in the sport of tennis that are affecting your business?  
–Tom: "There is a lot of shifting in our industry that is changing not just what we are purchasing, but what people are buying. For example, Adidas has had the number one tennis shoe for a long period of time, but the brand recently got rid of its sales and tech reps. We're no longer called on by many of the vendors that we used to do very well with and in turn, we don't buy as much product from those who don't support us. I also think a lot of the smaller companies have suffered in the times we've had recently. So, there is more power for the Nikes of the world because they are the ones left standing. You don't have the choices."
–Virginia: "I try to support the smaller brands because there are customers of ours that want something different."
What is selling well for you?
–Virginia: "Lucky in Love started out with a children's line that people really liked. So, people were hoping they would come out with a women's line. They finally did. That is probably our second most popular brand, behind Nike."
What are some ways in which the tennis side of the business differs from the running side?
–Tom: "There are definitely different challenges. In running, the majority of it is in footwear. In South Florida, runners are so minimal with their clothing. Footwear is very sensitive to the Internet. Tennis and the apparel business is less sensitive because I think a lot of women are nervous about buying clothing online. There is very little agreement in the industry about what a size small is. It changes so much by brand and even by season."
What do people come in store for versus purchasing online?
–Tom: "Tennis balls. That's a convenience purchase. Or getting racquets strung. These things get them in the door and then they buy other things. We are very heavy into the team business. Teams come in as a group and the idea is that once you get them in the door, they'll also shop."
Is there anything that you think that brands could be doing better in the tennis market?
–Tom: "One of the issues we deal with a lot is brands fulfilling promises. In footwear, when you order a shoe, you always get it. Typically, it comes when you expect it. In the apparel business, they often decide to cancel runs. There maybe is a problem with the fabric. We'll get an order two months after the promise date. At that point, we may not want it anymore because we have other apparel coming in. Some of the bigger vendors ship incomplete and late. When you ship a top without the bottom, the whole collection becomes useless and you end up shipping the whole thing back."
–Virginia: "The smaller brands usually ship complete."
Do you both play tennis?
–Tom: "I do."
–Virginia: "I used to play a lot."
Do you have a favorite player?
–Virginia: "Oh yes, Roger Federer."